ROMANS TEN
Israel's Need for the Gospel
And Its rejection

by Ulrike
VERSE 9.31
But Israel, which followed after the law of righteousness, has not attained to the law of righteousness.
VERSE 9.32
Wherefore? Because they sought it not by faith, but as it were by the works of the law. For they stumbled at that stumbling stone;

Is this text saying that it is wrong to "follow after the law of righteousness"? Was this Israel's problem? No, elsewhere Paul writes in 1 Timothy 6.11
"But thou, O man of God, flee these things; and follow after righteousness, godliness, faith, love, patience, meekness. Fight the good fight of faith, lay hold on eternal life."
So why did Israel not attained THE LAW OF RIGHTEOUSNESS?
The world's Redeemer, the only begotten Son of God, by his perfect obedience to the law, by his life and character, redeemed that which was lost in the fall, and made it possible for man to obey that holy law of righteousness which Adam transgressed.
When a sinner comes to Christ in repentance, he is forgiven and stands in the sight of God as righteous; for the righteousness of Christ is his: Christ's perfect obedience is imputed to him. Yet he must still co-operate with divine power, he must "seek the law of righteousness by faith".

As Jesus said, Matt. 6.33
"Seek ye first the kingdom of God, and his righteousness; and all these things shall be added unto you. "

Israel did NOT seek the law of righteousness by faith but rather trusted in their own works, they trusted in their own righteousness rather than the righteousness of Christ.. That's why they did not attain unto righteousness. Essentially, the Jews thought they could pile up a credit balance with God, and thus God would owe them salvation, but that is obviously a losing battle, because man's imperfection can never satisfy God's requirement of perfection: it will always fall short of God's righteousness. "But as many as received him, to them gave he power to become the sons of God, even to them that believe on his name: which were born, not of blood, nor of the will of the flesh, nor of the will of man, but of God." John 1:17-18

The person who finds Christ, the person who beholds the treasure of salvation, has the hidden treasure-- the Rock of Ages.

VERSE 9.33
As it is written, Behold, I lay in Zion a stumbling stone and rock of offence: and whosoever believeth on him shall not be ashamed.

As another apostle says: 1 Peter 2:3-8.
"If indeed you have tasted that the Lord is gracious. Coming to Him as to a living stone, rejected indeed of men, but chosen of God, and precious, you also, as living stones, are built up a spiritual house, an holy priesthood, to offer up spiritual sacrifices, acceptable to God by Jesus Christ. Wherefore also it is contained in the Scripture, Behold, I lay in Zion a chief cornerstone, elect, precious: and he that believeth on Him shall not be confounded. Unto you therefore which believe He is precious: but unto them which be disobedient, the stone which the builders rejected, the same is made the head of the corner, and a stone of stumbling, and a rock of offence, even to them which stumble at the word, being disobedient."

To those who believe, Christ is the sure foundation. These are they who fall upon the Rock and are broken. Submission to Christ and faith in Him are here represented. To fall upon the Rock and be broken is to give up our self-righteousness and to go to Christ with the humility of a child, repenting of our transgressions, and believing in His forgiving love. And so also it is by faith and obedience that we build on Christ as our foundation.

VERSE 10.1
Brethren, my heart's desire and prayer to God for Israel is, that they might be saved.

Paul again voices his love and longing for his fellow countrymen, natural Jews. He wants them to be saved. In 9:2 he expressed his heart's sorrow and anguish because the unbelieving people of Israel are lost.

VERSE 10.2
For I bear them record that they have a zeal of God, but not according to knowledge.

Paul knew the Jews were zealous for God; but he also saw that their zeal was misdirected. He himself was extremely zealous in his pre-converted state.
Sincerity is not enough, for we may be sincerely mistaken.

Not the labours of my hands
Can fulfil Thy law's demands:
Could my zeal no respite know,
Could my tears forever flow
All for sin could not atone:
Thou must save, and Thou alone."

Zeal without knowledge, says the scripture, is not good. (Pr.19:2)
They were zealous for the forms, the outer shells. They rejected the center, the One who gave it all meaning.

Verse 10.3
For they being ignorant of God's righteousness, and going about to establish their own righteousness, have not submitted themselves unto the righteousness of God.

There are three parts to this verse:
1. They are ignorant of God's righteousness.
2. Trying to establish own righteousness
2. Not submitting to the righteousness of God.

While the law is holy, the Jews could not attain righteousness by their own efforts to keep the law. The Pharisees thought they were righteousness because of their works and yet were ignorant of the true standard of righteousness of God. Where there is a true conception of the spirituality and holiness of the divine law, the sinner is under condemnation, and his sins stand arrayed before him in their true sinful character. By the law is the knowledge of sin, and in its light he understands the evil of secret thoughts and deeds of darkness. God's law presents matters in a light in which he has never before viewed his life. He sees that what we speak with our tongue, what we do with our hands, what we exhibit in our outer life, is but a very small part of what goes to make up our character. The law penetrates to the thoughts and intents of the heart. It searches out the dark passions indulged in secret, the jealousies, envyings, theft, murder, malignity, ambition, and evil that lurk hidden from the eyes of men.
Many who claim to believe that the law has a binding obligation upon human intelligences, thinkit's only an "outward" thing and think lightly of their secret sins. They, like the Pharisees, carry themselves with boldness, satisfied in their self-righteousness as if they were really doers of the word of God, yet their hearts are far from God.

The true followers of Christ must obtain a righteousness of a different character from that of the Pharisees, if they would enter the kingdom of heaven. Self-righteousness falls far below the standard of God's righteousness. Everything that we of ourselves can do is defiled by sin. But the Son of God "was manifested to take away our sins; and in Him is no sin." God offers Israel (and the world), in His Son, the perfect righteousness of the law. If they would open their hearts fully to receive Christ, then the very life of God, His love, would dwell in them, transforming them into His own likeness; and thus through God's free gift they would possess the righteousness which the law requires. But the greater part of national Israel rejected Christ; "being ignorant of God's righteousness, and going about to establish their own righteousness" (Romans 10:3), they would not submit themselves unto the righteousness of God.

Without faith in Christ, they rest upon their own merits. True repentance for sin they have never felt.

10.4
For Christ is the end of the law for righteousness to every one that believeth.

Artist: Russell Harlan


Christ is the end (telos)
"TELOS" can mean "end" in the sense of "goal" or "completion".
Christ is the only ONE who can place righteousness in us and complete the righteousness of the law in us.
Without Christ, the law of itself was only condemnation and death to the transgressor. It has no saving quality,--no power to shield the transgressor from its penalty. The full penalty of the law will be executed upon the transgressor if he does not receive Christ as his atoning sacrifice and personal Saviour.


The law condemns the sinner, and thus drives him to Christ for righteousness.

Christ does not terminate the law. Do we then make void the law through faith? God forbid; we establish the law. (Romans 3:31) The law will always be there to point out what sin is, but the law is not the focus, Christ is the focus. Only He can cleanse, and sanctify and change the heart and mind

As we continue, we see Paul giving us a further glimpse into the way God restores us spiritually. He defines righteousness by faith as the writing of the law on the heart of the believer.

10.5
For Moses describes the righteousness which is of the law, That the man which does those things shall live by them.
10.6
But the righteousness which is of faith speaks on this wise, Say not in thine heart, Who shall ascend into heaven? (that is, to bring Christ down from above:)
10.7
Or, Who shall descend into the deep? (that is, to bring up Christ again from the dead.)
10.8
But what saith it? The word is nigh thee, even in thy mouth, and in thy heart: that is, the word of faith, which we preach;

Paul is quoting Deuteronomy 30: 11-14

30.10 If thou shalt hearken unto the voice of the LORD thy God, to keep his commandments and his statutes which are written in this book of the law, and if thou turn unto the LORD thy God with all thine heart, and with all thy soul.
30.11 For this commandment which I command thee this day, it is not hidden from thee, neither is it far off.
30.12 It is not in heaven, that thou shouldest say, Who shall go up for us to heaven, and bring it unto us, that we may hear it, and do it?
30.13 Neither is it beyond the sea, that thou shouldest say, Who shall go over the sea for us, and bring it unto us, that we may hear it, and do it?
30.14 But the word is very nigh unto thee, in thy mouth, and in thy heart, that thou mayest do it.
Here we see the word that is written on the heart refers to the commandments of God. Putting Paul's emphases in Romans 3 and 8 together with this new emphasis in Romans 10 we conclude that when the Holy Spirit comes into our hearts He brings us into complete accord with the holy law of God.

This is the promise of the new covenant!
This is the covenant I will make with them in those days, says the Lord: I will put my law in their hearts and in their minds will I write them, and their sins and iniquities will I remember no more. Hebrews 10:16-17
The Gospel is not hidden," Paul declares in 2 Cor. 4:3,
"but if it is hidden, its hidden to them that perish; whose minds are blinded by the god of this world, which believe not, lest the light of the glorious Gospel of Christ, who is the image of God, should shine unto them...a light that shines in upon the heart.
Paul began this passage with his earnest wish that Israel would be saved. In order to be saved they need to be righteous. They KNOW that obedience to the law IS RIGHTEOUSNESS, for Moses pointed that out to them. Yet they failed to understand God's righteousness, for they are zealously seeking to establish their own righteousness. Paul points out that Christ is the ONLY ONE who can give them righteousness. Christ alone can justify them, and He is near to anyone who seeks Him and as even Moses pointed out, He will place that law in their hearts and make it part of them.
10.9
That if thou shalt confess with thy mouth the Lord Jesus, and shalt believe in thine heart that God hath raised him from the dead, thou shalt be saved.
10.10
For with the heart man believeth unto righteousness; and with the mouth confession is made unto salvation.
There is no need for us to scale the heights or search depths for a hidden God, for Christ has already come, died and risen, and so has made salvation accessible to everyone. The question is; will people believe and accept?
These verses however, are speaking of more than acknowledgment that Christ lived and died and rose again. They are speaking of a faith that comes from a heart and life changed by the power of God. The heart and mouth together show that inward conviction and faith results in outward confession that we are Christ's.
"Out of the abundance of the heart the mouth speaketh," Matt. 12:34
To believe with the heart is more than conviction, more than assent to the truth. This faith is sincere, earnest, and engages the affections of the soul; it is the faith that works by love, and purifies the heart. Faith in Christ results in righteousness of heart. The righteous law of God is no longer an external thing, but becomes part of the very character of the person whose faith and hope is in Christ. 1 Cor. 5.17
Therefore if any man be in Christ, he is a new creature: old things are passed away; behold, all things are become new.
Earlier Paul wrote: Romans 6.3-4
Know ye not, that so many of us as were baptized into Jesus Christ were baptized into his death?
Therefore we are buried with him by baptism into death: that like as Christ was raised up from the dead by the glory of the Father, even so we also should walk in newness of life.
10.11
For the scripture saith, Whosoever believeth on him shall not be ashamed.
Artist: Charles Zingard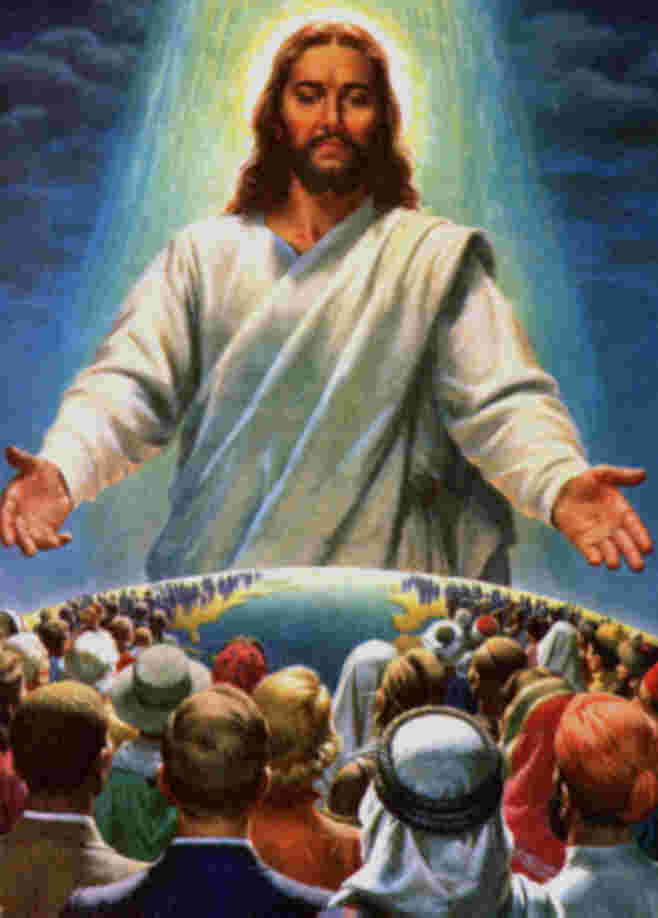 Paul began the argument by saying Israel had not achieved righteousness even though they zealously worked for it. Now he gives the affirmation that EVERYONE who goes to Christ in sincere earnestness will NEVER be ashamed. Clothed in the white robe of Christ's righteousness, with a heart purified by His grace we need never be ashamed. It is sin that causes shame. Yet all who truly believe in HIM have their sins forgiven, and His righteousness written upon their hearts and minds.
10.12
For there is no difference between the Jew and the Greek: for the same Lord over all is rich unto all that call upon him.
10.13
For whosoever shall call upon the name of the Lord shall be saved.
This is the Only way of salvation, and it is open to everyone.
Romans 11:32
For God has accounted them all as disobedience that He might have mercy on all.

Eph. 2.14
For he is our peace, who has made both one, (Jews and Gentiles) and has broken down the middle wall of partition...(that salvation comes from lineage)
Eph. 2.16 And that he might reconcile both unto God in one body by the cross,
Eph. 3.6 That the Gentiles should be fellow heirs, and of the same body, and partakers of his promise in Christ by the gospel:
10.14
How then shall they call on him in whom they have not believed? and how shall they believe in him of whom they have not heard? and how shall they hear without a preacher?
10.15
And how shall they preach, except they be sent? as it is written, How beautiful are the feet of them that preach the gospel of peace, and bring glad tidings of good things!
10.16
But they have not all obeyed the gospel. For Esaias saith, Lord, who hath believed our report?
The gospel commission is to spread the good news! God's plan for Israel was that THEY should spread the gospel to the ends of the earth! It was preached to them FIRST. As Paul and Barnabas said in Acts 13:47:
"For so hath the Lord commanded us, saying, I have set thee to be a light to the Gentiles, that thou shouldest be for salvation unto the ends of the earth."
Even though the Jews as a nation rejected the gospel, and thereby couldn't be those beautiful feet that went out to all reaches of the earth proclaiming the gospel, the Lord still found his faithful remnant who preached it to the Gentiles. The Gentiles, in turn, were to spread it far and wide, including, telling it to generation after generation of Jews. The Jews were not to be without "hearing" the gospel, either.
Christ sends heralds, heralds preach: people hear: hearers believe: believers call on the name of the Lord, and those who call are saved.
---
Romans 11
Romans 9
Home Page
---