Ellen White's Vision on Astronomy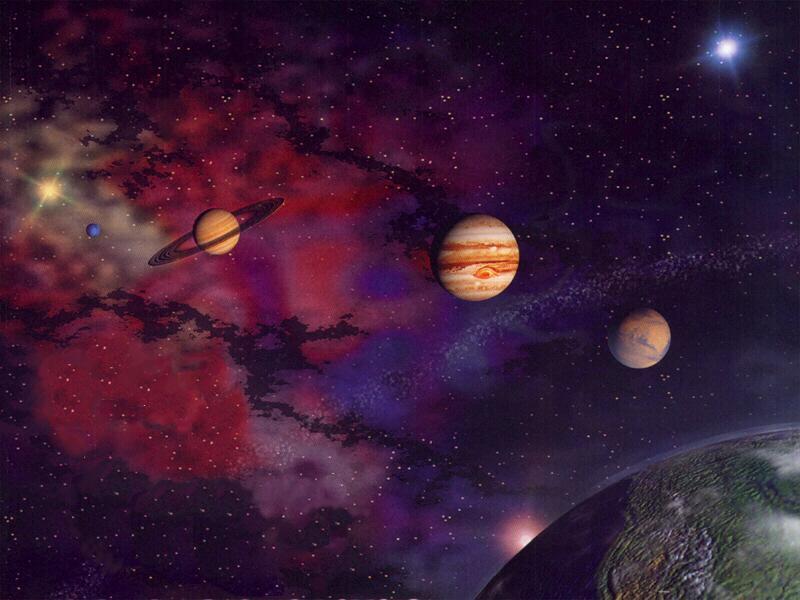 by ozq
In November, 1846, the newly married couple, James and Ellen White, attended a conference in Topsham . Joseph Bates had come up from New Bedford and was present.
Ellen White wrote:
The Spirit of God rested upon us in Brother C.'s humble dwelling, and I was wrapt in a vision of God's glory, and for the first time had a view of other planets. After I came out of vision I related what I had seen.

Actually, during the vision, wholly unbeknown to her, she spoke of what was passing before her. J. N. Loughborough recounted in print the description of the meeting as Bates told it to him:

Mrs. White, while in vision, began to talk about the stars, giving a glowing description of rosy-tinted belts which she saw across the surface of some planet, and added, "I see four moons."

"Oh," said Elder Bates, "she is viewing Jupiter!" Then having made motions as though traveling through space, she began giving a description of belts and rings in their ever-varying beauty, and said, "I see seven moons."

Elder Bates exclaimed, "She is describing Saturn."

Next came the description of Uranus, with its six moons; then a wonderful description of the "opening heavens," [Orion nepula] with its glory, calling it an opening into a region more enlightened. Elder Bates said that her description far surpassed any account of the opening heavens he had ever read from any author.

While she was talking and still in vision, he arose to his feet, and exclaimed, "O how I wish Lord John Rosse was here tonight!" Elder White inquired, "Who is Lord John Rosse?"

"Oh," said Elder Bates, "he is the great English astronomer. I wish he was here to hear that woman talk astronomy, and to hear that description of the 'opening heavens.' It is ahead of anything I ever read on the subject."--GSAM, p. 258. {1BIO 113-114}
Ellen White and Saturn and Jupiter.

Did Ellen White "trick Captain Bates with her vision"?
Did she forget how many moons? Was she just quoting common knowledge?
Did she say there was life on Saturn?

The charge we often hear is that her vision was simply "revealing" common knowledge obtainable from Bates himself or from a book on astronomy, and that she perpetrated this hoax "to win Elder Bates."

It is true that this vision convinced Joseph Bates, a sea captain, who till then did NOT believe Ellen White's visions came from God, that he had been wrong in his disbelief. He was convinced after this encounter that she was NOT a fraud. We know from the early records that Bates was extremely cautious about accepting her claims. He was very skeptical.

He wrote of his feelings about the visions:
"I felt alarmed and tried exceedingly, and for a long time unwilling to believe that it was anything more than that was produced by a protracted debilitated state of her body. I therefore sought opportunities in presence of others, when her mind seemed freed, to question, and cross-question her, and her friends which accompanied her, especially her elder sister (Sarah) to get if possible at the truth." WLF p.21

Several people also attested to the fact that EGW, in 1846, had NEVER "studied or otherwise received knowledge" in the field of astronomy.

To now turn around and say that the skeptical Bates, upon hearing EGW recite back to him in vision the very things which he supposedly had told her, would react with great astonishment and be overwhelmingly convinced for all time that her vision is from God, would be stretching the credibility of Bates. No, Bates was not that gullible— he believed because he was impressed by something that could not be so easily explained away as modern critics would have us believe.

Loughborough gives this account:

"Elder Bates said that her description far surpassed any account of the opening heavens, he had ever read from any author. While she was talking and still in vision, he arose to his feet, and exclaimed, "O how I wish Lord John Rosse was here tonight! Elder White inquired, "Who is Lord John Rosse?" Oh", said Elder Bates, "he is the great English astronomer. I wish he was here to hear this woman talk astronomy, and to hear that description of the "opening heavens." It is ahead of anything I ever read on the subject." From that evening Elder Bates became fully satisfied that the visions of Mrs. White were outside of her knowledge and control." (Rise and Progress of Seventh-day Adventists p. 258-259)
It is clear that Mrs. White experienced something far greater than something that came due to her head injury and which had to do with things she was pondering, things with which she was thinking about that came up in a theological debate among the early SDA's. This was something "ahead of anything" Bates himself, the student of astronomy, had read. Where did she get this information and power of description. Mrs. White was only nineteen, in feeble health, and had only a grade three education, yet she awed and impressed the confessedly skeptical Bates by the descriptions of the heavens.

BUT SHE DID NOT GET THE MOONS RIGHT say the critics.

First of all, EGW did not name ANY planet.
In her account she mentions no names. It was Bates who named the planets. If Ellen White was WRONG, how is it that Bates recognized the planets she was describing while she was in vision?


Back to Loughborough's work, on page 258
R "While in vision, (EGW) began to talk about the stars, giving a glowing description of the rosy- tinted belts which she saw across the surface of some planet, and added, "I see four moons."
"Oh," said Elder Bates, "she is viewing Jupiter." Then, having made motions as though traveling she began giving descriptions of belts and rings in their ever-varying beauty, and said, "I see seven moons," "She is describing Saturn," declared Bates."

Now remember, Bates is honestly skeptical, and because of his study of astronomy he would be most easily reached by something he is familiar with. Now if God gave Ellen White that vision to convict Bates, what would God show EGW? If the Lord caused her to see far beyond the greatest telescope of that time and she started describing many more moons, would not her description in vision result only in filling Bates' mind with doubt and confirming him in his skepticism?

If this vision was given to impress the mind of the astronomically minded Bates, isn't the vision tailored to do just that? It was within the limits of 1847 astonomical knowledge, yet so surpassingly vivid and detailed as to be beyond and ahead of any description Bates had yet read. Besides she did not say that there were ONLY four moons that circled Jupiter", nor did she say there were ONLY seven moons, etc. Did God give Biblical prophets the number of the stars and every detail— no! Are they frauds? No!

EGW's first vision of 1846 was an accurate (yet advanced) though not as advanced as what scientists have found today, depiction of this solar system-- of Jupiter, Saturn and Uranus. It was like God showed her through a telescope that was slightly advanced for her day-- a view of the solar system. That is what Bate's and James White's documented reaction shows.
James White wrote in 1847 about the vision Ellen had seen of the planets in our solar system:
"At our conference in Topsham, Maine, last Nov., Ellen had a vision of the handy works of God. She was guided to the planets Jupiter, Saturn, and I think one more. After she came out of vision, she could give a clear description of their Moons, etc. It is well known, that she knew nothing of astronomy, and could not answer one question in relation to the planets, before she had this vision." A Word to the Little Flock, p. 22
Now please note-- in none of the above accounts is ANYTHING mentioned that even hints Ellen White saw people living on any of those planets which she saw in that vision.

WHAT ABOUT PEOPLE LIVING ON SATURN

EGW doesn't say there were people living on Saturn.
In another vision, three years later, which is recorded in E.W. pp. 39,40 she writes:

The Lord has given me a view of other worlds. Wings were given me, and an angel attended me from the city to a place that was bright and glorious. The grass of the place was living green and the birds there warbled a sweet song. The inhabitants..were noble, majestic and lovely. ...there countenances beamed with holy joy... Then I was taken to a world which had seven moons, there I saw good old Enoch, who had been translated..."

The vision does not give the name of this world.
Yet the critics come and say "Mrs. White herself described Saturn as having ONLY SEVEN moons, the number then assigned to that planet by astronomers, and she says people live on Saturn. Then they quote from Early Writings the sentence. "Then I was taken to a world which had Seven Moons."

Mrs. White did not mention the word Saturn AT ALL, anywhere. The word "only", is supplied by the critics, besides the planet EGW saw, could, in reality, very easily have seven moons. The evidence is overwhelming that this WAS NOT SATURN! For Saturn does not have people living on it, and the planet described in Early Writings does.

Nowhere, in EGW's writings will you find her saying there are people living on Saturn. In this recorded vision it simply says she was taken to another world.

"The Lord has given me a view of other worlds. Wings were given me, and an angel attended me from the city to a place that was all bright and glorious. The grass of the place was living green and the birds there warbled a sweet song. The inhabitants..were noble, majestic and lovely. ...there countenances beamed with holy joy...Then I saw two trees..."None in this place have tasted of the forbidden tree...Then I was taken to a world with seven moons. There I saw good old Enoch, who had been translated. ...He moved about the place as if perfectly at home. I begged my attending angel to let me remain in that place. I could not bear the thought of coming back to this dark world. ..Then the angel said, You must go back and if faithful, you...shall have the privilege of visiting all the worlds and viewing the handiwork of God."

A certain Mrs. M.C. Truesdail, wrote about her memories of EGW in 1891.
Take into consideration that this is 40 some years after the event. She wrote, that EGW had a vision of the planetary world and after counting aloud the moons of Jupiter, and soon after those of Saturn, gave a beautiful description... Then she said,' "The inhabitants are a tall, majestic people...

But just because this woman combined the words which Bates uttered during the vision in 1846 with words from Early Writings, which come from a completely different vision, does not prove this is what Ellen White saw and said, for she never said there were people on Saturn. Yet upon this one witness, Ellen White is to be called a fraud? For one person is precisely the only evidence upon which the critics base their planetary accusations against Ellen White that people live on Saturn or Jupiter.

Mrs. White did not even write out the vision which convinced Bates that she was a prophet, it is not the same vision which is recorded in Early Writings page 38-39. All she herself says of that early vision is this:

"Bro. J. Bates, did not then fully believe that my visions were of God....I was wrapt in a vision of God's glory, and FOR THE FIRST TIME (meaning she had more later) had a view of other planets. After I came out of vision I related what I had seen. Bro. Bates asked if I had studied astronomy. I told him I had no recollection of ever looking into any astronomy. Said he, "This is of the Lord." Spiritual Gifts vol. 2 p. 83
---
The accusations come by combining two separate and different visions, and treating them as one:
1. The vision (from the distance) of the planets Jupiter, Saturn and Uranus which convinced Bates her visions were true.

2. A second vision (where Ellen is on the other planets themselves) and sees the grass, trees, birds, and people living there. No one knows where those planets are. That is not revealed.
The scripture speaks of other worlds:

Heb. 1:2 Hath in these last days spoken unto us by his Son, whom he hath appointed heir of all things, by whom also he made the worlds;

Heb. 11:3 Through faith we understand that the worlds were framed by the word of God, so that things which are seen were not made of things which do appear.

Why wouldn't God have other unfallen worlds which He created, in this universe, worlds that are inhabitated. Surely God did not create the vast universe without inhabitants. And why won't these be tall majestic inhabitants

But, remember, we have no direct record of Ellen White ever saying that Jupiter or Saturn, was inhabited. That is based only on what someone stated more than thirty years later.
---
ELLEN WHITE INDEX PAGE